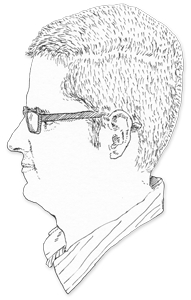 About Me
I'm terrible at describing myself. Others have thrown around words like Christian, reserved, whimsical, passionate, random, quirky, Darth Vader, complex, dead pan, and sarcastic. If we ever meet you can add to that list. My wife is the most amazing person I've ever met and our daughter is 100% awesomesauce. I've been very blessed to have a mentor in Mark Cowper-Smith. He taught me how to have a relationship with Jesus, and not just follow a bunch of rules to be a Christian.
I'm currently the Director of Product Marketing for a small San Diego software company. My time in the office is spent doing interface design, product management, and strategy. I'm also working a little side project I hope to share soon.
Typset in a combination of Elena and Colfax from Process Type, and Symbolset from Oak. Kyle Steed created the awesome hand drawn sketch of me on this page. Built on an Mac with iaWriter, Sublime Text, Statamic, and Github. Hosted by Digital Ocean.
Connect with me on Twitter.